Currently, mobile technology is growing every day. That is why the growing popularity of smartphones and tablets has made mobile app development an increasingly popular trend among business owners around the world.
What is a mobile application?
A mobile application, also known as a mobile app, is a type of program designed to run on a mobile device, such as a tablet or smartphone. These types of applications allow users to carry out a varied set of tasks, facilitating the management or activities to be carried out.
Major mobile operating systems
One aspect to take into account when developing a mobile application is undoubtedly the operating system. That is why you should always evaluate which operating system is the most suitable for your application and which is the most used by your target audience.
Next, we will describe the mobile operating systems with the highest market share:
Android: This operating system is based on Linux, it is free, free and multiplatform. Manufacturers like Samsung and Xiaomi use it.
iOS: This operating system is developed by Apple Inc. It is only compatible with its devices.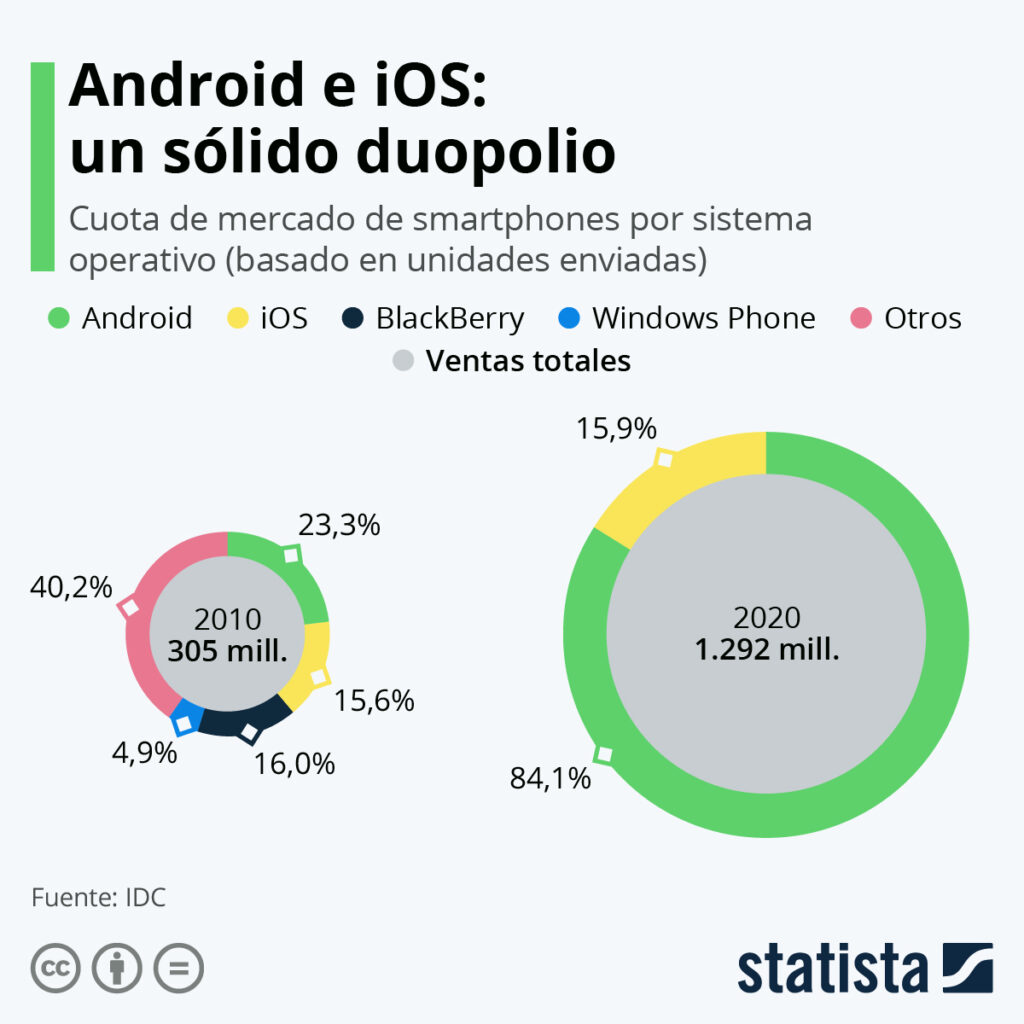 There are different types of mobile applications, each with its advantages and disadvantages. The type of mobile application that you should develop will depend on the requirements you have and what our objective is.
These types of applications are those in which development is carried out for each of the platforms, that is, in the case of mobiles, a specific application is designed for Android and one specific for iOS. Its performance is excellent and in terms of access to the device it is complete.
Also called multiplatforms, they are those that allow us, through a single development, to program for several platforms at the same time. One of the disadvantages of this type of platform is that access to the device is less permissive and its performance is lower.
On the other hand, we find web applications, these are those in which a single development is carried out for all platforms, and the applications can also be accessed through a web browser. One of the advantages of this type of development is that it involves less development time and therefore less price, however, these cannot be uploaded to the app store and access to the device is partial.
What type of mobile application to choose?
After knowing the types of mobile applications that exist, you will ask yourself, how do I choose the most suitable one for me? In this case, it is important to take into account some aspects such as budget and development time. For this, it is always advisable to seek advice from a professional.
Based on these, you will have to choose which type of application is the most suitable for your business. That is why we leave you some aspects to take into account, in relation to each of the applications.
We recommend a hybrid application in case of:
If you are going to release your app for more than one operating system.
If the appearance and speed of your app is not your main objective.
If the functionalities of the application do not vary depending on the operating system.
You are more interested in a native app when:
If you want to use the appearance and speed of the system of each mobile device.
If your application needs to access the specific hardware of the device, as in the case of the fingerprint sensor or face unlock.
On the other hand, if what matters to us is the price and that the app is multiplatform, it is most likely that you should choose a mobile web application.
Conclusions
As you can see, there are many aspects to take into account when developing a mobile application. For this reason, as we have mentioned before, it is best to contact professionals in the area. Did you know that more than half of the people on earth use a mobile? It's time to take your business to another level!
Are you thinking of developing a mobile application? Contact us and let's start working together.